Photographs :: Sue's Assistant, Barbara Toohey
Meet Barbara Toohey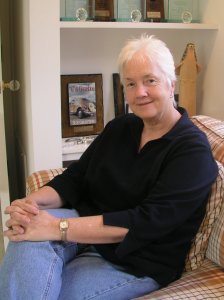 Well, it's now been 17 years since Sue and I met. For those of you who don't know how my mini-career began, many years ago I wrote to several authors living the the area, and Sue gave me a call. We met, after a quick trip to a local book store to find out what she wrote, and I've been doing pretty much anything she asks ever since.
I still make twice-weekly trips to the post office so correspondence doesn't get out of hand. Right around 1800 visits so far, by my calculations. Needless to say, I'm on a first name basis with just about every postal worker in Santa Barbara. I continue to 'note-post-it' characters, repeating places, towns, streets, Kinsey's habits, good and bad, etc., after each book is published. I also stamp, stick, and lick 4500 holiday greeting cards, along with sending out 4500 tour schedule postcards when a new book is released. Yikes! How glamorous is this?
Some of you know about the day job I just loved and said I would never give up. For quite a few years I was the statistical crime analyst for the Santa Barbara Police Department. Well, I turned sixty something a little over a year ago and decided to give it all up so I could stay home and work in my pajamas (don't tell Sue because she would never approve). I also have dreams of traveling more, reading during the day, spending more time with my camera, and doing something creative/crafty. I do miss my friends at the PD, and being 'in the know,' but I love all the spare time I now have on my hands. Well...not really all that much spare time. For the past five years I've managed a 36-unit senior apartment complex here in Santa Barbara. They may be seniors, but they keep me hopping. As for a creative outlet, I dabble at painting with acrylics, collage, and I just love the art glass fusing class I've been taking. I'm looking forward to traveling more in the U.S., and also want to visit Australia and New Zealand to do some sailing and snorkeling.
This year has been particularly busy. I had a total hip replacement a few months ago. Best thing I ever did. I feel like a new person. And, I just returned from a trip to Maine, where family and friends celebrated my son's marriage to his sweetheart.
Enough about me. I need to get back to work, or... I'm going to keep on reading, or listening, and certainly hope you'll do the same. Take care everyone.
Barbara Toohey
October 2011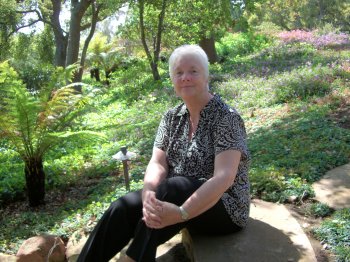 This is the ever faithful Barbara Toohey, who has PROMISED to write a new letter to be posted on the homepage. Don't believe a word of it if she complains about me.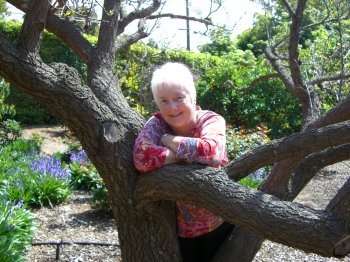 This is Barb in the rose garden, probably hoping she won't have to do a lick of work. Many of you were able to meet her at the Cybersibs Gathering. She made a point of driving up to Avila Beach when she heard about the wine tasting Monday of that week.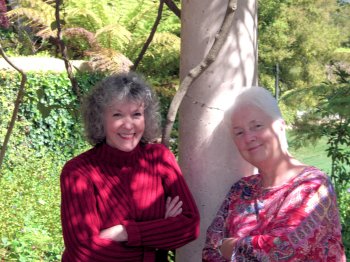 In truth, we're not entirely fixated on answering fan mail, unpacking boxes, and making sure books get signed. This is us hanging out under the pergola near the pool.