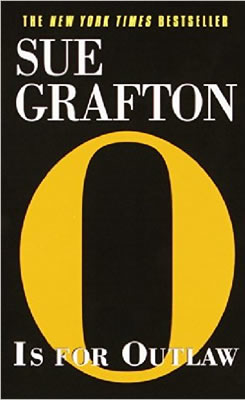 "O" is for Outlaw
The call comes on a Monday morning from a guy who scavenges defaulted storage units at auction. The weekend before, he'd bought a stack of cardboard boxes. In one, there was a collection of childhood memorabilia with Kinsey's name all over it. For thirty bucks, he was offering Kinsey the lot.
Though she's never been one for personal possessions, curiosity is a powerful force. She agrees to meet the guy, then hands over a twenty (she may be curious, but she's also cheap and she loves a bargain).
What she finds among the items is an old undelivered letter to her that will force her to reexamine her beliefs about the breakup of her first marriage...about the honor of her first husband...and about an old unsolved murder.
It will put her life in the gravest peril.
"O" is for Outlaw: Kinsey's fifteenth excursion into the dark side of human nature.
Through fourteen books, readers have been fed short rations when it comes to Kinsey Millhone's past: a morsel here, a dollop there. We know about the aunt who raised her, the second husband who left her, the long-lost family up the California coast. But husband number one has remained a blip on the screen. Until now. "O" is for Outlaw: a revealing excursion into Kinsey's past.
mass market paperback | Published by Henry Holt and Co. | ISBN13: 9780449003787
Reviews
"Sue Grafton hits the bull's-eye with this 15th installment of her bestselling alphabet mysteries. Bottom Line: 'O' is for On Her Game."
—People
"There are no awkward shifts of mood in Sue Grafton's 'O' is for Outlaw, the 15th book featuring Southern California private investigator Kinsey Millhone...Ms. Grafton remains one of the most adept, and perhaps even underrated, prose stylists in her field, one who can make you laugh out loud on a given page and then stop you short with a thoughtful passage."
—The Wall Street Journal
"For Kinsey's 15th adventure, Grafton continues to create characters that seem to leap off the page and into real life. The dialogue is snappy, and the clues smartly planted. (You might think you know who the real villain is but trust me, Grafton surprises again.)"
—The Cleveland Plain Dealer
"This is my kind of escapist crime fiction: cuisine-free, feminist in feeling, and loaded with local color and ingenious detection. 'P' is for please hurry, Ms. Grafton, with the next Millhone book for the millennium."
—USA Today
"'O' is for Outlaw is extremely good—outstanding in fact."
—The San Francisco Chronicle Book Review
"Grafton's fans will be thrilled with this knockout 15th Kinsey Millhone mystery, which deals with Kinsey's first marriage."
—Publishers Weekly
"Lying, snooping, rifling drawers, following oblivious suspects, rarely taking time to sit and think, Kinsey keeps you blissfully in the dark about what's happened and what's coming up till the magician tips her hand at the denouement and shows you how simple it all was—in Grafton's best since 1992, when 'I' was for Innocent."
—Kirkus Reviews
"In Grafton's latest of the series, Kinsey is sassier than ever, the supporting characters are amusingly eccentric, and the mysteries, both past and present, are intriguing. Grafton's fans will love this one. Highly recommended."
—Library Journal