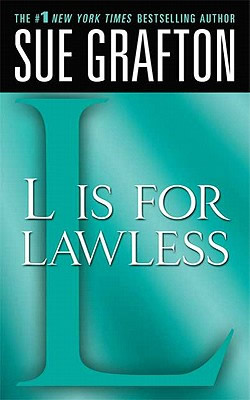 "L" is for Lawless
Kinsey's skills are about to be sorely tested. She is about to meet her duplicitious match in a couple of world-class prevaricators who quite literally take her for the ride of her life.
"L" is for Lawless: Call it Kinsey Millhone in bad company. Call it a mystery without a murder, a treasure hunt without a map, a quest novel with truly mixed-up motives. Call it the return of Kinsey as bad girl—quick-witted and quicksilvery, smart-mouthed and smartalecky-poking her nose into everyone's dirty laundry as she joins up with a modern-day Bonnie and Clyde in an Our Gang comedy that will take her halfway across the country and leave her with a major headache and an empty bank balance.
America's favorite borderline delinquent is back with her one-liners on tap and her energy level on high, romping through her fastest and funniest adventure in this, her twelfth foray into the alphabet of crime.
mass market paperback | Published by Henry Holt and Co. | ISBN13: 9780312373139
Reviews
"Grafton proves again that she has a real prize in Millhone: the character who grows from book to book."
—Boston Herald
"This is one of Grafton's most fun-to-read books...One of [Kinsey Millhone's] wildest adventures yet."
—San Francisco Examiner
"'L' is for Lawless is Sue Grafton and Kinsey Millhone at their best..."
—San Antonio Express News